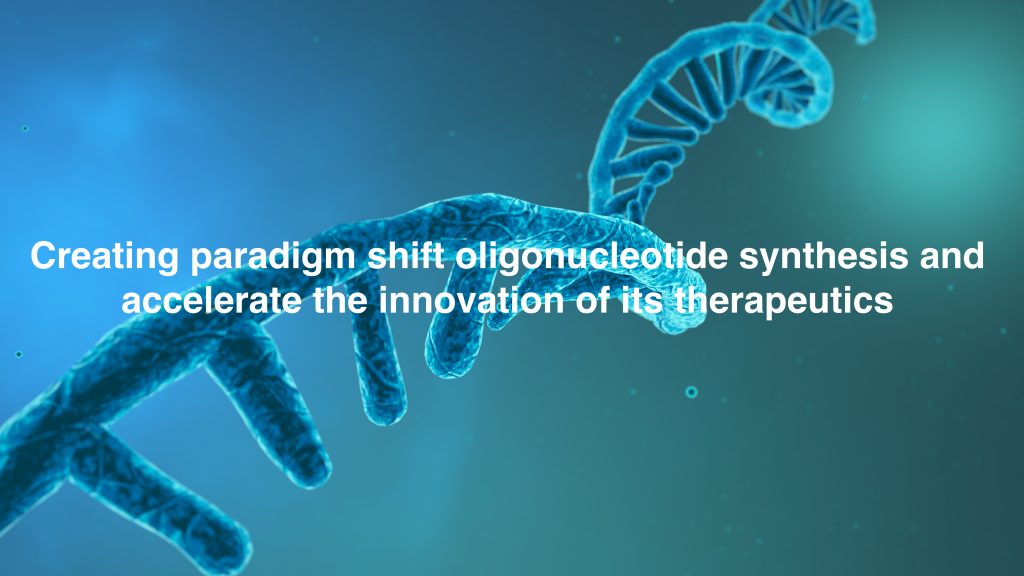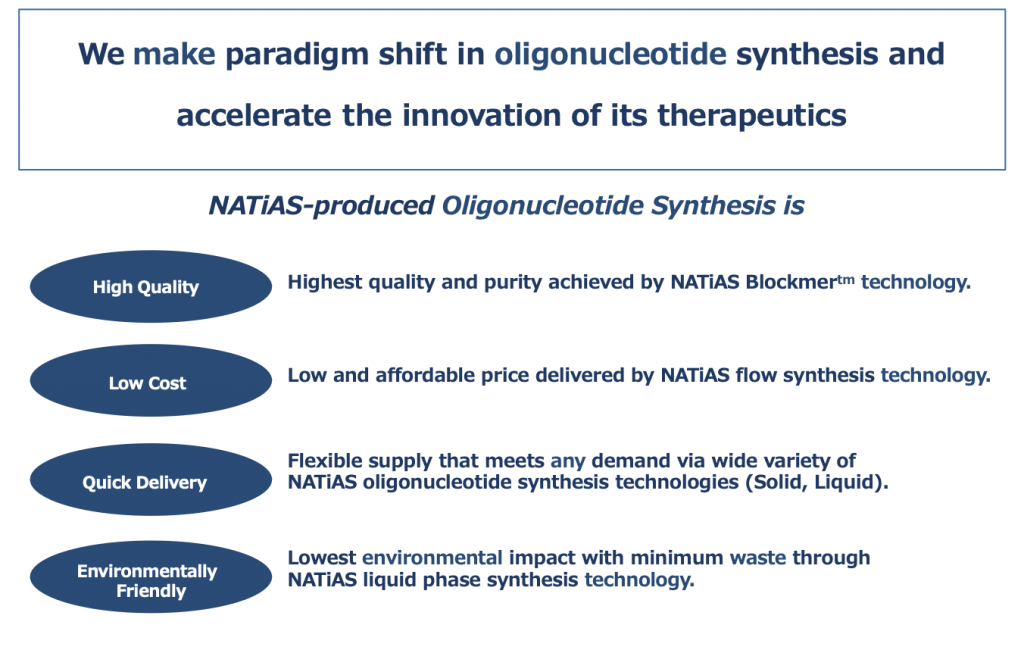 Oligonucleotide Therapeutics
Oligonucleotide therapeutics correspond to diseases targeted by the difference in base sequence. It is extremely effective as a treatment for fibrosis, but it has also been confirmed to be effective for many other disease. Since the drug is created directly from the target sequence, there are many advantages that other drug modalities do not have, such as extremely fast drug development, low toxicity and the ability to target upstream disease factors.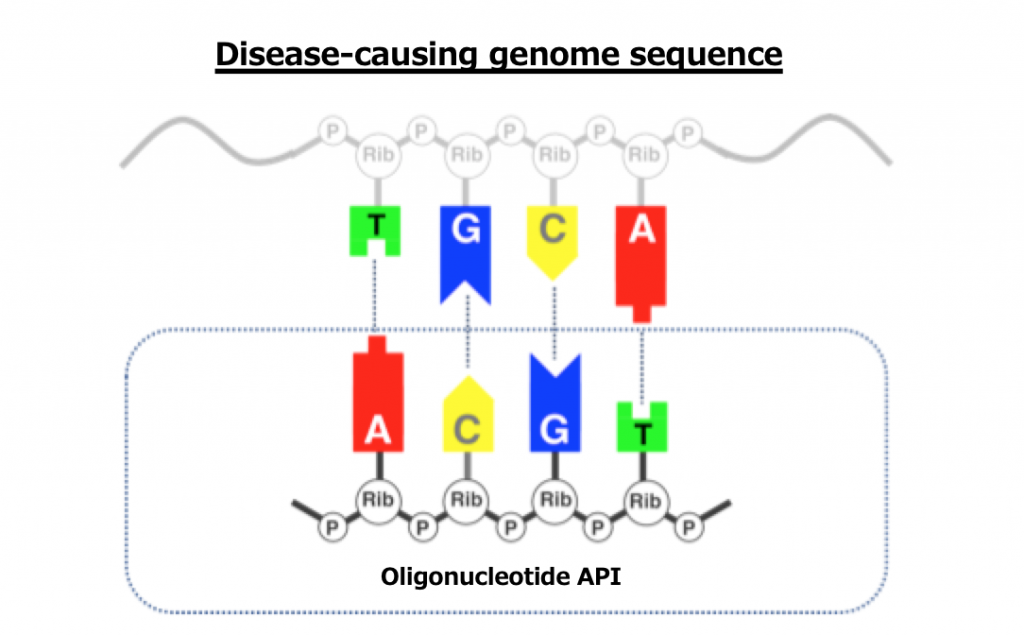 Core Technology① Blockmer™ Raw Materials
The development of Blockmer raw materials (Blockmer™) has solved the most difficult problems of the liquild phase method, such as complicated operation and low quality. Several patent applications have been filed, some of which have been patented in Japan, the United States and Europe.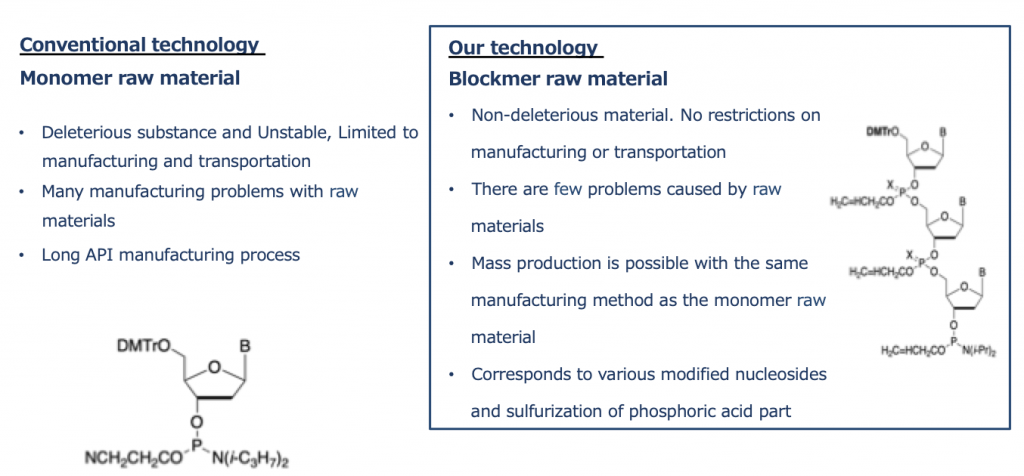 Core Technology② Block Liquid Phase Synthesis 1
Blockmer ™ can significantly shorten the oligonucleotide API synthesis process compared tp the traditional raw materials. In addition, Blockmer™ makes it possible to produce extremely high-quality oligonucleotide APIs with almost no impurities (1-2 bases shorter than target length), which is unavoidable in conventional synthetic methods using monomers.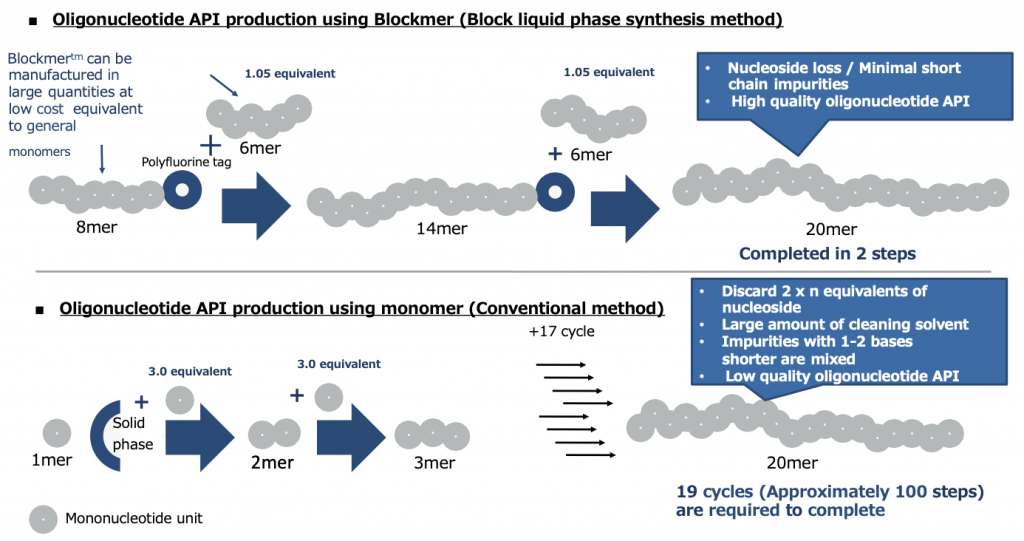 Core Technology② Block Liquid Phase Synthesis 2
Currently, semi-automatic synthesizers that implement the solid-phase method are mainly used for oligonucleotide API manufacturing. However, the solid-phase synthesis method has a problem in productivity and it is expected that production will not be able to keep up with the growing demand in the near future. The liquid phase method used in small molecule drugs has been expected to improve the productivity, but it has not been able to solve quality issues. We have overcome quality issues with our unique Blockmer technology and are currently developing automation system.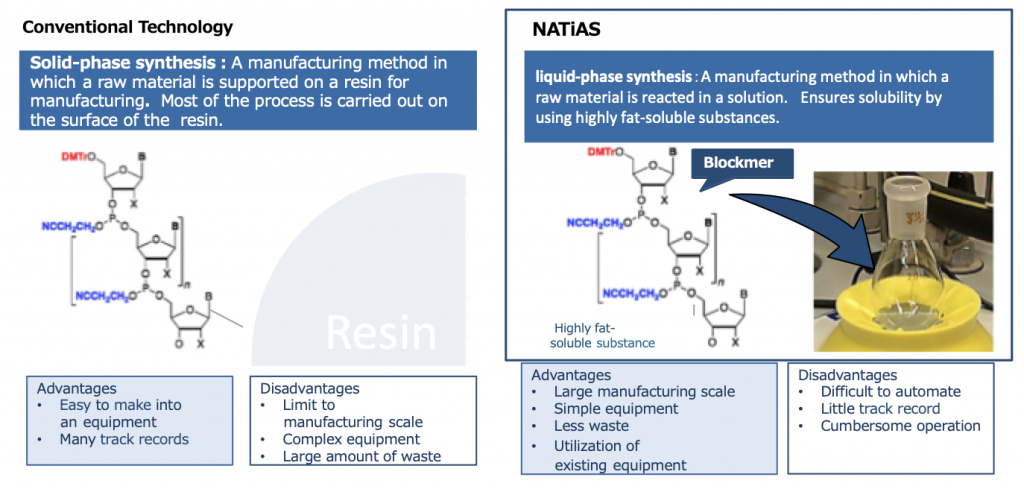 Company Overview
Company name
NATiAS Inc.
Location
Head Office
〒650-0047
5-5-2 Minatojima-Minamimachi,
Chu-ku, Kobe-shi, Hyogo
Kobe international business center 3F

R&D/Process Development/Pilot Mfg. Lab
〒650-0047
5-5-2 Minatojima-Minamimachi,
Chu-ku, Kobe-shi, Hyogo
Kobe international business center 2F

GMP Mfg. Lab/Quality Control Lab
〒650-0047
7-1-6 Minatojima-Minamimachi,
Chu-ku, Kobe-shi, Hyogo
Medical Device Development center 3F
Date of establishment
October 2, 2015
CEO
Masanori Kataoka
Main Business
Manufacturing and sales of oligonucleotide API and oligonucleotide raw materials
Contact